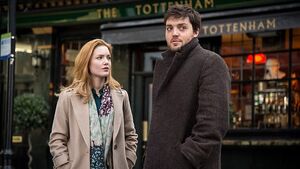 Strike is a 2017 television series produced by the BBC based on the detective novels written by J. K. Rowling (originally under the pseudonym "Robert Galbraith.") The first episode premiered on the 10th August at the British Film Institute, with the first television screening occurring on BBC One on 27th August, 2017 at 21:05 (British time). The series was picked up by HBO for distribution in the United States and Canada. It began airing in the United States on June 1st, 2018.
Cormoran Strike, a war veteran turned private detective operating out of a tiny office in London's Denmark Street, is wounded both physically and psychologically. His unique insight and his background as a Special Investigation Branch Investigator prove crucial in solving three complex cases, which have eluded the police.
Production
Edit
On 10th December, 2014, it was announced that the Cormoran Strike novel series, written by J. K. Rowling under the pseudonym Robert Galbraith would be adapted for television by the BBC. Intended for transmission on BBC One, Strike will consist of a total of seven 60-minute episodes. The first three episodes will adapt The Cuckoo's Calling, the fourth and fifth episodes will adapt The Silkworm, with the final two episodes adapting Career of Evil.
Rowling collaborated on the project, while Ben Richards adapted The Cuckoo's Calling, and Tom Edge adapted both The Silkworm and Career of Evil. Tom Burke was cast in the lead role of Cormoran Strike, while Holliday Grainger will play the role of Robin Ellacott. Logan Kerr was later cast as Robin's fiancé, Matthew Cunliffe.
Ben Richards stated that the series is "very different tonally and visually from other crime dramas," comparing the series to the British detective television show Inspector Morse. Similarly, Edge, who adapted the second two novels, commented that "people use old-fashioned as a pejorative word, but to me that's part of why these books, and, I hope, the TV series, works so well."